Contract Review for Modern Commerce
By simply uploading your contract, TermScout instantly uncovers critical information, synthesizes complex market data, and presents it all in a single, intuitive, and secure platform.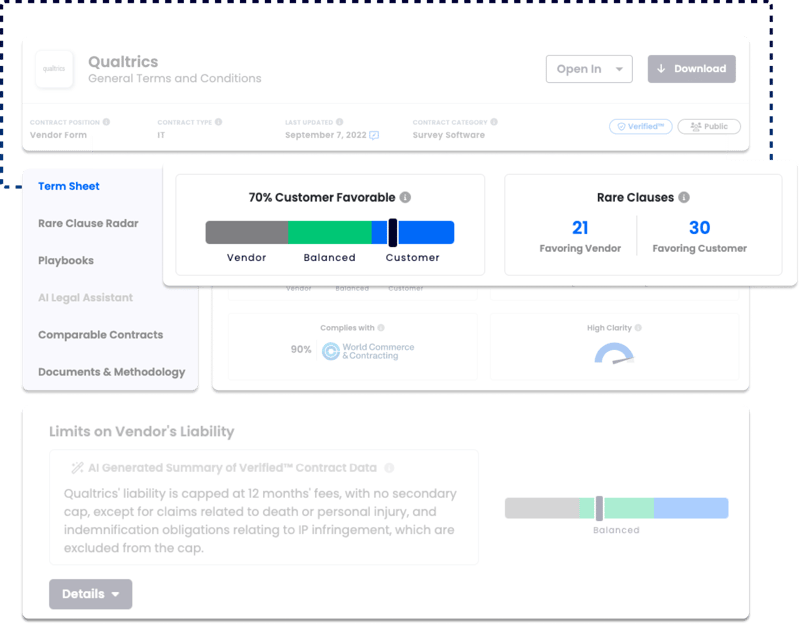 Market data trusted by the top legal teams
Discover the information you care most about
Rare Clause Radar
Quickly and easily find the most unique and elusive clauses that benefit both parties involved. Now you can pinpoint these clauses in seconds, giving you an unparalleled advantage in any legal negotiation.
AI Legal Assistant
Alleviate any concerns or uncertainties you may have regarding your contracts. Whether you're a business owner, freelancer, or just an individual looking to clarify the terms of a contract, AI Legal Assistant is here to help. Say goodbye to the hassle of poring over legal jargon and let AI Legal Assistant take care of it for you.
Term Sheet
Gain a deeper understanding of each review by breaking it down into individual clauses. Term Sheets provide a condensed summary of each clause, along with an analysis of who the clause favors and the market data that supports it. This helps you make informed decisions and negotiate with confidence.
Playbooks
Looking for a simple and effective way to make sure your contract is up to par? Look no further than our standard playbooks! Choose from a variety of options to compare your contract against, and gain the peace of mind that comes with knowing your legal agreements are on solid ground. Or, if you have specific concerns or priorities that aren't covered by our standard options, create a custom playbook that's tailored to your exact needs.
Verify Any Contract Review
Have peace of mind knowing that your contracts are always accurate and legally sound. With our contract verification service, you can request a thorough and reliable analysis from our team of experts. Our human-backed verification process ensures that every detail and clause in your contract is carefully reviewed and evaluated. You'll receive a comprehensive report within 24 hours, giving you the confidence you need to proceed with your business dealings. Don't leave anything to chance - verify any contract with us today.
85%+
Accuracy
Minimum AI-only accuracy is 85% with the option to achieve 99% accuracy through Verification.
3K+
Companies
TermScout is trusted by thousands of companies and law firms around the world.
20K+
Contract Views
TermScout AI is trusted with over twenty thousand contract reviews each month.
How does the review process work?
Step 1
Select Your Preferences
Quickly select the contract type you'd like to review, your role in the transaction, and your preferred privacy level.
Step 2
Upload Your Contract
Upload your contract or copy and paste the URL to begin your review.
Step 3
Let Our AI Work
TermScout's in-house contract experts fine-tune large language models, producing the most accurate contract AI analysis on the market.
step 4
Analyze Critical Insights
Our robust algorithms assess contracts clause by clause, extracting key insights and rating favorability to each party involved.
Step 5
Take Decisive Action
Understand clause meanings and their prevalence across comparable contracts, saving you time and facilitating confident decision-making.
Step 6
Verify Any Contract Review
Have peace of mind knowing that every contract uploaded to the TermScout platform can undergo an al a carte Verified review by our team of contract experts.
Start reviewing contracts today
Explore vast contract market data
Explore vast contract market data